History IX
Host and Executive Producer for The B-Side online talk show- he also edits, mixes and directs many episodes

Bachelor of Arts- Theatre and Film
Masters Degree- Secondary Education
38 years of Film/TV and Theatre Experience
Winner of Multiple "Tele" Awards
Award Winning Filmmaker
Accomplished Musician-Blues, Punk, Electronic
Martial Artist (Jeet Kune Do)
Sculptor and Painter
Married for 20 years and Father of Six amazing kids
---
I've lived much of my life in Tucson, Arizona, but have also traveled extensively in Europe and lived on the East and West Coasts of the U.S. and many places in between.
I come from an incredibly huge family (I think my cousin count is up to 129) on my Yaqui/Mexican side of the family, and rather small (immediate cousin count is 4) on my Scottish side.
My family is deeply ingrained in the history of Arizona through cattle ranching, mining, education and significant historical events. I take my stewardship of the land seriously and do everything I can to make it a better place than when I was born.
My great great grandmother, Hettie Harrison came here from Kentucky in 1877, buried a husband on the way and started her cattle ranch in the Canello Hills close to Elgin, Az. It was nothing more than a tiny tarpaper shack with twenty goats but she eventually built it into a working ranch, moving thousands of head of cattle.
She was one of a kind, defiant, strong and unbreakable. When the Indian Wars broke out, she hid Apaches from the U.S. Cavalry because she thought they had just as much a right to live as anyone. She refused to pay taxes (eventually having to sell some land to do so and keep the bulk) because she didn't think the government didn't do "much of any good with it." She lived her life as she pleased and outlived several husbands and children, eventually dying at the age of 99. I hold her as an inspiration, close to my heart.


---
Personally....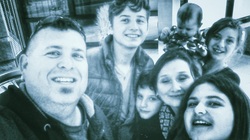 I've often said, my adventures and experiences were fun, scary, exciting and many times, too incredible to believe. Everything which did happen, has made me incredibly versatile, capable and strong. I have had almost every job imaginable: from being a professional knife thrower in a Wild West Stunt show, to designing custom organic gardens and nurseries...I've been a DJ and TV Show host, I've sold leather coats in the desert and shoes with springs on them. I've had incredible adventures all over the world and made friends from every continent.
Fred Rogers was an especially huge influence on my life. I cannot tell you how important it was to me, lying belly down, face mounted in my hands, listening to Mr. Rogers tell me, "You are unique, you are special." Or "No matter what, you decide what you want to be. Only you," My favorite was, "Do what you love. That is all that matters."
He later wrote, "If you do what you love, do what you are passionate about, someone will eventually pay you well to do just that."
Especially important to me, is my wonderful family. I am blessed to have an incredible wife and six amazing kids (#7 is on the way!!!). My wife is so smart, I have to try my best to keep up. She speaks Irish and Scottish Gaelic, Latin, Spanish and English. She's a heck of a soccer player, a great cook, fantastic mother and my very best friend. My six kids are great people...yes, even the teenagers...who are crazy talented in art, music and sports. They range in age from twenty-five down to one year. I'd rather spend time with all of them, than any other people on the planet.

---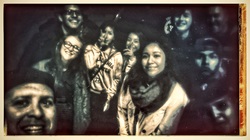 I'm am very happy to have taught a crew of kids who worked extremely hard everything they did. They've produced some great bits of film, written full length scripts with matching trailers and even fully crewed and produced live streams of Major League and PDL soccer games which broadcast in over 75 countries. I'm proud to call many of them my friends.

---
A name by any other name...errr...uhhh...wouldn't be the same....name.

The name "IX", pronounced like Nynh or the English number 9, had a long, long adventure before it came to be. I was born Alfredo Jr. and coming from a very large family, I felt like I was significantly un-unique as I also had several cousins bearing the same name.
When high school started, in conjunction with a move to a new city,
I felt it was the perfect time to come up with a new name and identity. So, I decided to name myself after the bass player from my favorite band, the epic 80's pop gods, Duran Duran. My hero was named John, however, and I didn't feel that fit me entirely. So, I took his real first name and with a spelling tweak, suggested by my good friend Mary, I became Nijhel for many years. I must admit, I still felt a bit of a junior, though of a different father.
It wasn't until years later, when my father had remarried and had more children, my little sister mistook my shortened nickname "Nij" for the word, "nine." Everyone thought it was funny and teased me, but I actually felt like it was the name I'd always been looking for! Not to mention, getting named by one's own littler sister is very, very cool.
For a while, I took the spelling Nynh, but shortly after finishing the amazing graphic novel, V for Vendetta, I signed my name at the bottom of one of my paintings with four quick strokes...and...BAM! It took on the final look which has stuck with me for decades.
The signature "IX", which I spontaneously created (based off of the old Punk Rock Anarchy Symbol), revealed what would eventually be the trademark logo for many personal and professional aspects of my life; Award winning films like,
A Moment in Ruby
, music with
IX and the Lead Cocktails
or my poetry sculptures and paintings, The "IX" symbol has become synonymous with my name, person and persona.
---